Project Summary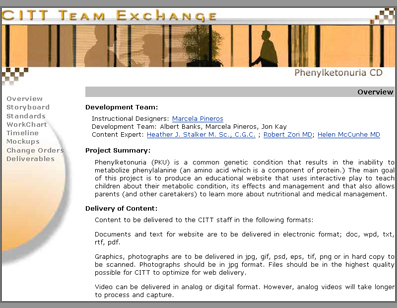 The Team Exchange websites were designed by Marcela to streamline and facilitate project management at the Center for Instructional Technology and Training. The website houses the documentation pertinent to a given contract, including work flow, spreadsheets for file tracking, storyboards, timelines, etc.
Roles
In this project, Marcela performed duties that correspond to the following team member roles:
Instructional Designer
Content Developer
Graphic Designer
CSS/HTML Programmer
User Interface Designer
Assessment Specialist
View a Sample
The following link will take you to a live version of this project. This version may have limited functionality and is only intended to serve as a portfolio piece.
No Responses to " Team Exchange "