Project Summary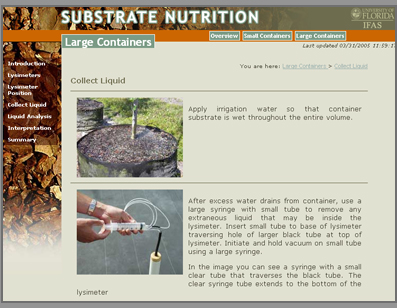 The Substrate Nutrition site is intended to be an instructional resource for growers interested in determining the properties of a given substrate. By providing information and multimedia materials to help clarify the process, it is hoped that these growers will be able to more effectively manage a plant's nutrition needs
This project included a pre-test, post-test and background administrative reporting function. Video, flash slideshows and downloadable PDF sheets convey the content in a multi-modal fashion, allowing students with diverse learning styles to familiarize themselves with the fundamental principles of substrate nutrition.
Roles
In this project, Marcela performed duties that correspond to the following team member roles:
Instructional Designer
Project Manager
Content Developer
Graphic Designer
User Interface Designer
View a Sample
The following link will take you to a live version of this project. This version may have limited functionality and is only intended to serve as a portfolio piece.
http://www.marcelapineros.com/_portfolio/substrate/index.htm
No Responses to " Substrate Nutrition "