Project Summary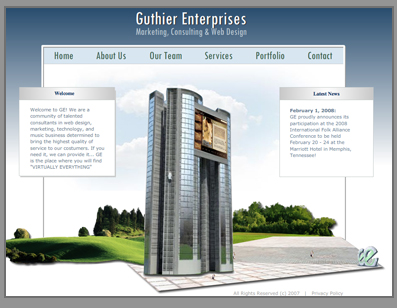 Guthier Enterprises, Inc. was founded in 2007 as a joint effort between Marcela Pineros and Allen Guthier. The company offers marketing, web design and consulting services to industries as varied as education, photography, law, fashion and music.. In addition to coordinating 3D rendering artists and Flash programmers, Marcela has spearheaded the design for the company's business identity, ensuring the image of the company is accurately reflected in the polished look of the site.
Roles
In this project, Marcela performed duties that correspond to the following team member roles:
Content Developer
Project Manager
Graphic Designer
Flash Developer
User Interface Designer
View a Sample
The following link will take you to a live version of this project. This version may have limited functionality and is only intended to serve as a portfolio piece.
No Responses to " Guthier Enterprises, Inc. "