Project Summary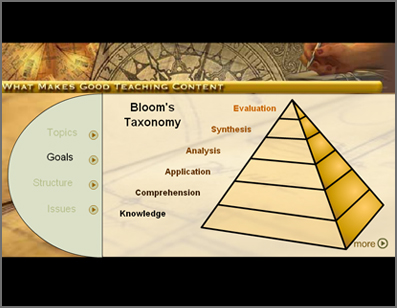 This Flash presentation was created for the Graduate Teaching Assistants Orientation, required of all new teaching assistants at the University of Florida. It serves as a resource to graduate students new to teaching, by providing a brief overview of the issues that should be taken into consideration when selecting content for online activities.
Roles
In this project, Marcela performed duties that correspond to the following team member roles:
Instructional Designer
Project Manager
Content Developer
Graphic Designer
Flash Developer
User Interface Designer
Assessment Specialist
Trainer
View a Sample
The following link will take you to a sample of this project. This version may have limited functionality and is only intended to serve as a portfolio piece.
No Responses to " Creating Online Content "