Project Summary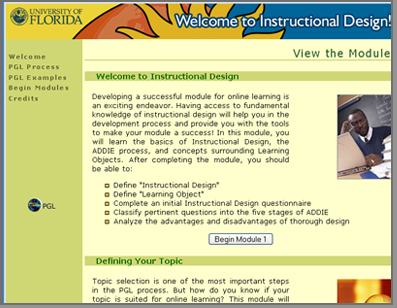 This website houses seven modules designed with interactivity in mind. Modules include fill-in-the-blank questions, multiple choice questions, and input text boxes. As users move through each section, they find that pages tend to build on the responses to previous questions. This site and its contents have been developed and tested in conformance with the W3C's recommendations for XHTML 1.0 and CSS. ADA Section 508 standards have also been taken into consideration from design to development The seven module topics are:
Welcome to Instructional Design: Familiarize yourself with the standard process for module development and answer questionnaires that will provide you with a customized curriculum for developing your own module.
Defining Your Module Topic: Select a suitable topic for e-learning, taking into consideration PGL module topic guidelines.
Defining Your Learners: Determine who your audience will be and how they will interact with the material.
Planning and Assessing Learning: Determine what your learners will accomplish and how you will assess their progress.
Designing Your Module: Search for resources, outline your module, determine the sequence of activities/content, and develop storyboards for interactivity/assessments.
Writing for the Web: Develop your content and write your online materials using the basic principles of universal design and proper web design.
Selecting Implementation Tools: Answer questions to help determine which tools can assist you in the development of your module.
Roles
In this project, Marcela performed duties that correspond to the following team member roles:
Instructional Designer
Project Manager
Content Developer
Graphic Designer
Flash Programmer
CSS/HTML Programmer
Assessment Specialist
View a Sample
The following link will take you to a live version of this project. This version may have limited functionality and is only intended to serve as a portfolio piece.
No Responses to " PGL Online Course "