Project Summary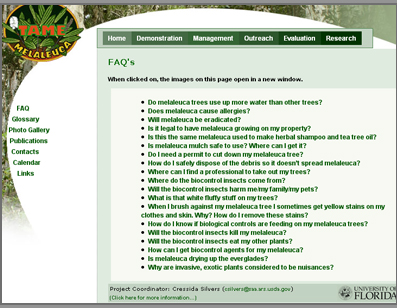 The Areawide Management Evaluation of Melaleuca quinquenervia (TAME Melaleuca) was established as a collaborative multi-agency project under the USDA Agricultural Research Service's Area-wide Pest Management Initiative. This site is a resource intended to educate land managers, encourage adoption of control methods and disseminate information on the dangers of this invasive species.
The site includes information on the status of treatment zones in the State of Florida, as well as slideshows with images of pests, plant effects, and multiple forms of treatment. The FAQ section is intended to provide the most basic information pertinent to everyone from homeowners to land managers.
Roles
In this project, Marcela performed duties that correspond to the following team member roles:
Instructional Designer
Project Manager
Graphic Designer
User Interface Designer
Assessment Specialist
View a Sample
The following link will take you to a live version of this project. This version may have limited functionality and is only intended to serve as a portfolio piece.
No Responses to " TAME Melaleuca "