Project Summary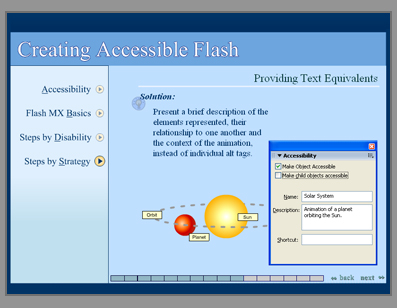 The Educational Leadership Initiative is a five-year federally funded project of the Southeast DBTAC geared to improve access to information technology for educational institutions in the Southeastern United States.
Marcela created this Flash animation as a training instrument for the 2004 Education Leadership Academic, hosted by the University of Georgia and the University of Florida. The workshop follows a parallel structure, whereby the animation used to present the content models the very principles offered. The workshop can be tailored to three different levels of technical knowledge and contains all of the information necessary for a student to complete independently.
Roles
In this project, Marcela performed duties that correspond to the following team member roles:
Instructional Designer
Project Manager
Content Developer
Graphic Designer
Flash Developer
User Interface Designer
Assessment Specialist
Multimedia Programmer
Trainer
View a Sample
The following link will take you to a sample of this project. This version may have limited functionality and is only intended to serve as a portfolio piece.
http://www.marcelapineros.com/_portfolio/AccessibleContent/index.html
No Responses to " Creating Accessible Flash "