Project Summary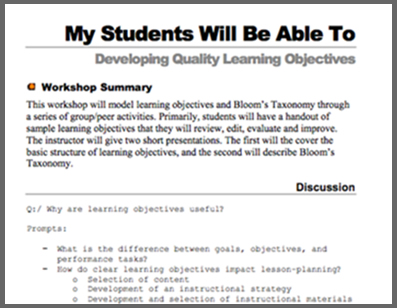 Regularly, faculty find themselves overwhelmed with extensive "To Do" lists and seldom have time to sit down and actually write down learning objectives for their lessons and activities. But as someone once suggested, "written goals have a way of transforming wishes into wants; cant's into cans; dreams into plans; and plans into reality. Don't just think it – ink it!" This workshop will present you with all of the benefits of establishing quality learning objectives that will in turn facilitate your overall course development. Turn your ideas into activities, your content in lessons, and your students into enthusiasts!
Roles
In this project, Marcela performed duties that correspond to the following team member roles:
Instructional Designer
Consultant
Trainer
View a Sample
The following link will take you to a PDF with notes from this workshop. These notes are only intended to serve as a portfolio piece.
http://www.marcelapineros.com/_portfolio/LearningObjectives/
No Responses to " Learning Objectives "