Project Summary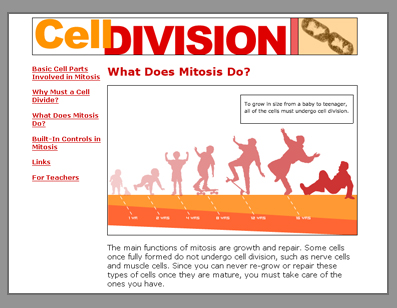 This module was developed for the Partnership of Global Learning initiative. The goal of this group is to produce and share e-learning materials for grades k – 12, which can be translated to English, Spanish and Portuguese and delivered around the world. The Cell Division module integrates Flash animations, self-tests and images to convey the fundamental concept of mitosis.
Roles
In this project, Marcela performed duties that correspond to the following team member roles:
Instructional Designer
Project Manager
Content Developer
Graphic Designer
Flash Developer
CSS/HTML Programmer
User Interface Designer
Assessment Specialist
View a Sample
The following link will take you to a sample of this project. This version may have limited functionality and is only intended to serve as a portfolio piece.
http://www.marcelapineros.com/_portfolio/CellDivision/cell/index.html
No Responses to " Cell Division "