Project Summary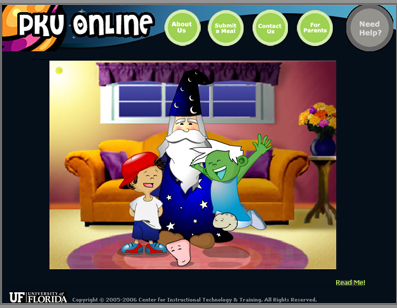 Phenylketonuria (PKU) is a common genetic condition that results in the inability to metabolize phenylalanine (an amino acid which is a component of protein.) The main goal of this project was to produce an educational CD and website that uses interactive play to teach children about their metabolic condition, its effects and management and that also allows parents (and other caretakers) to learn more about nutritional and medical management.
The cartoon was animated using Macromedia Flash and each of the games were designed to convey fundamental principles of eating guidelines that must be followed in a diet management program. The games include:
Food Zap: In this game, the child must zap foods that should not be consumed when diagnosed with PKU.
Checkout: This game presents the child with a checkout counter at a grocery store and asks the child to bag the food in order of phe content.
Memory Match: This game replicates the Memory card game, where all the cards are overturned and the child must find matching cards on the screen. Each pair contains a food, the phe value for that food, and a color to identify if it has high, low, or no content of phe.
Dinnertime: In this game, the child has an empty plate and a bank of food items to choose from. The child must prepare a balanced meal that does not exceed the recommended amount of phe in one day.
Roles
In this project, Marcela performed duties that correspond to the following team member roles:
Instructional Designer
Project Manager
Content Developer
Graphic Designer
Flash Developer/Actionscript Programming
User Interface Design
Assessment Specialist
View a Sample
The following link will take you to a live version of this project. This version may have limited functionality and is only intended to serve as a portfolio piece.