Bio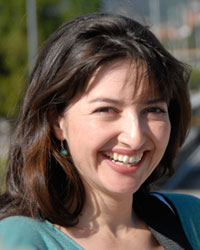 Marcela Pineros began her career in education at the K-12 level as a curriculum designer and teacher. Graduating Summa Cum Laude from Florida International University, Marcela applied all that she learned to her current profession as an Instructional Designer, combining tools and pedagogy to teach professors at the University of Florida, Miami Dade College and Florida International University. Her project list spans fields ranging from Engineering and Finance to Medicine, Education, and Sustainable Energy. Marcela has dedicated the past 17 years to assisting educators in the implementation of technology. Her award-winning projects have earned her national recognition as a leading interface designer, curriculum developer and accessibility expert.
An expert in adult education, Marcela has been brought on board for corporate training as both a designer, consultant and presenter. Working with cutting-edge online education programs such as Florida Virtual School, Marcela has added the field of virtual K-12 learning to her portfolio. She is repeatedly invited to participate in leadership conferences for e-Learning, providing exciting workshop opportunities for educators across the globe. In 2011, Marcela joined PulseLearning as Senior Instructional Designer for the United States, offering consulting services for individuals, corporations and academic institutions seeking to take the next step in both face to face training and fully online models.
What Clients Say
"Marcela brings an artistic flare to our team that is so necessary and valuable, she has provided leadership to the team and its projects when needed with helpful guidance never overbearing."
Priscilla Yamin, Outsource Design Coordinator, Florida Virtual School

"Marcela is one of the most efficient professionals I have worked with. It would be a privilege to work with her again!" Dr. Robert Zori, Pediatrics Shands Hospital

"Marcela provided excellent leadership and put together a successful team! When I need an instructional designer in the future I will definitely start with Marcela!" Dr. Buddy Tignor, USDA

"Her high level skills in instructional design, her project management skills, as well as her keen aesthetic sensibilities make Marcela a key asset to a multidisciplinary development team." Dr, Elizabeth Lowe, Center for Latinamerican Studies

"After our very first meeting, I knew our project would be a phenomenal success! Her professionalism, attention to detail, and creativity are unsurpassed."-Dr. Sandy Wilson, IFAS

"Clearly, Ms. Pineros has expertise that can enhance most any course and teaching style. Thank you for a job well done, and a lasting contribution to my teaching! " Dr. William Seaman, Chief Science Officer, Florida Sea Grant

"I can safely say that this project would be not be of the high quality it is today without Marcela's expertise and guidance." Dr. Gillian Lord, Linguistics,
University of Florida
Select Client List
Her 17 years as an Instructional Designer are highlighted by working on projects involving organizations such as:
Advanced Distributed Learning
Australia Post
CA Technologies
Citibank
Colombian Ministry of Education
Distance Learning Consortium
eBay
Florida International University
Florida Power & Light
Florida Virtual School
Harvard Pilgrim Health Care
Miami Dade Virtual College
Microsoft Corporation
NASA
Partnership for Global Learning
Pontifícia Universidade Católica do Rio de Janeiro
Red Hat
Quality Matters
Safelight Security Advisors
South Eastern Regional Folk Alliance
The Institutes
United Kingdom Ministry of Defence
Universidad de Monterrey
Universidad del Rosario
University of Arizona
University of Florida
University of Ohio
University of Pittsburgh
University of Vermont
US Department of Defense
US Department of Education
US Department of Energy
Awards of Distinction
"Certificate in Designing Powerful eLearning," Training Magazine, Chicago 2012
"Certificate in Advanced Instructional Design," American Society of Development and Training, 2010
"Exceptional Service Award," Office of Information Technology, University of Florida, 2005
"PRIMO Award" (Peer Reviewed Instructional Materials Online,) American Library Association/Association of College and Research Libraries, 2005
"Outstanding Extension Publication Award" (Best Educational Website,) American Society of Horticultural Sciences, 2004
"Academic Excellence Award," Women's Studies Dept., Florida International University, 2002
"Academic Service Award," Women's Studies Dept., Florida International University, 2002
"Outstanding Academic Achievement Award," College of Liberal Arts and Sciences, Florida International University, 2002
Recipient, Elaine Gordon Scholarship 2002
Dean's List – 2000, 2001, 2002
Affiliations
American Society for Training & Development
Golden Key National Honor Society
Phi Beta Kappa Academic Honor Society
Phi Kappa Phi Honor Society
No Responses to " About Marcela "
Sorry, comments for this entry are closed at this time.