Project Summary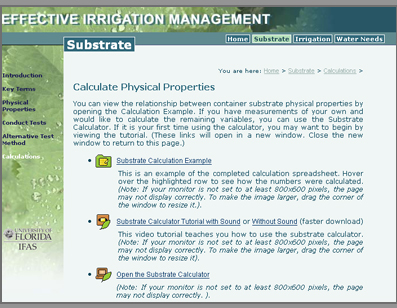 National Award Winner: July 2004- This project has been honored by the American Society of Horticultural Science with the annual "Outstanding Puiblication" Award. The ASHS, founded in 1903, is considered "the cornerstone for research and education in horticulture and an agent for active promotion of horticultural science."
The site is the online translation of the face-to-face Effective Irrigation Management workshop conducted by IFAS extension. It incorporates interactivity and multimedia to convey valuable information pertinent to Environmental Horticulture growers.
Roles
In this project, Marcela performed duties that correspond to the following team member roles:
Instructional Designer
Project Manager
Graphic Designer
Flash Developer
CSS/HTML Programmer
User Interface Designer
Assessment Specialist
View a Sample
The following link will take you to a live version of this project. This version may have limited functionality and is only intended to serve as a portfolio piece.
No Responses to " Effective Irrigation Management "