Project Summary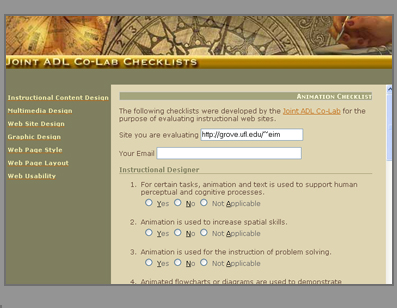 In 1997 the Advanced Distributed Learning Initiative of the Department of Defense sponsored the research and development of academic online content quality checklists. The Joint Co-Lab in Orlando designed the content for the checklists and Marcela then adapted them in an easy to use submission website for internal projects developed by the Center for Instructional Technology and Training at the University of Florida. These checklists were presented at the ADL Plugfest in Pittsburg and have since been implemented by academic members at Virginia Tech University.
Roles
In this project, Marcela performed duties that correspond to the following team member roles:
Instructional Designer
Project Manager
Content Developer
Graphic Designer
PHP Programmer
User Interface Design
Assessment Expert
Trainer
View a Sample
The following link will take you to a sample of this project. This sample may have limited functionality and is only intended to serve as a portfolio piece.
http://www.marcelapineros.com/_portfolio/testing/index.html
No Responses to " ADL Checklists "
Sorry, comments for this entry are closed at this time.